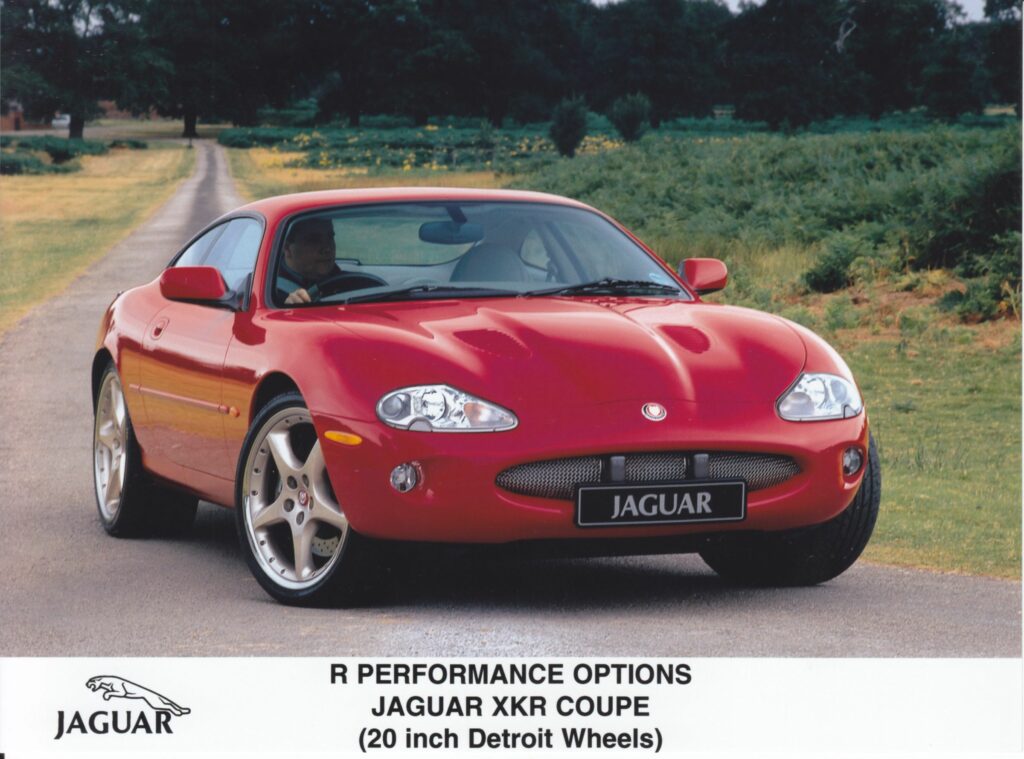 Jaguar R Performance  
I am often asked what does Jaguar R Performance mean and what are the R Performance options provide by Jaguar relating to the Jaguar XK8 XKR (X100) model.
Here is a brief summary:
In readiness for the Frankfurt Motor Show in September 1999 and coinciding with Ford's decision to brand their Formula 1 team as 'Jaguar' the company finally introduced some of the add-ons first seen in the XK180 and developed under the Special Vehicle Operations (SVO) banner 
Primarily intended for the XK8 and XKR models but also made available for some of the XJ Range and S types these performance related options by SVO were identified by the name R Performance. 
They were available on new cars by special order but customers with older cars would have to wait until 2002 to get them as aftermarket add-ons from a Jaguar dealer.
BBS designed and supplied the 'R' Performance alloy wheels which for the XK8 / R were either 18 ins Milan or 20 ins Paris or Detroit named after launch venues for the X180 concept car, all of the two piece split rim makeup.
The 20 ins wheels were the largest ever to be fitted to a Jaguar car.  All wheels were fitted with very low profile Pirelli P Xero tyres of the correct size. The 20 ins wheels necessitated the fitting of rubberised rear wheel arch extensions to meet the construction and use regulations criteria
Also available were much improved brakes based on racing technology. Brembo designed them with two-piece cross drilled ventilated discs 355mm x 32mm at the front and 330mm x 28mm at the rear with aluminium 4 pot calipers bearing the Jaguar name. There was also a handling pack which could only be fitted to cars with Cat's suspension. This was made up of your choice of wheels plus the Brembo brakes, uprated springs anti-roll bars and re-tuned variable ratio steering and dampers. With this option right height was reduced by 10mm
Prices at the time for the 'R' performance enhancements ranged from £1450 the Milan 18 ins wheels with Pirelli tyres to £5900 for a fully fitted out XKR handling pack. 
From 2001 a new 20 ins Montreal wheel was offered and in 2022 Recaro sports seats with soft grain leather matching steering wheel and gear knob. Even an aluminium pack with instrument surrounds, foot pedals and gear lever surround. In 2004 the 'R' performance took more of an extrovert approach with an expansive brochure covering its availability for all Jaguar models. For the XK's specifically other 20 ins split rim alloy wheels were added to the range these being the impressive Sepang and Perseus wheels. 
Thanks for Looking.
DCR