Well Maintained Jaguar XK8 4.0 Convertible Based in Scotland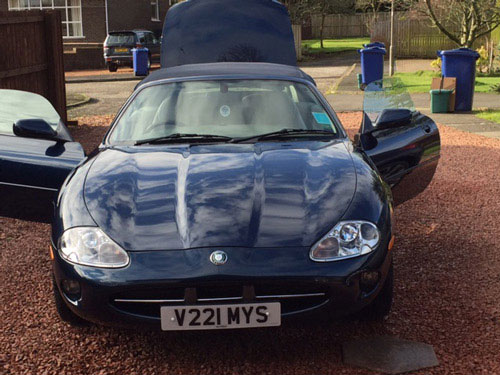 This smart, well maintained XK8 4.0 Convertible based in Scotland owned by Graham has benefited from regular ongoing maintenance to keep it in excellent condition. Problems that have needed to be sorted out have included poor light quality due to ageing and damp lenses, concerns about the cooling system plastic parts and the plastic timing chain top tensioners.
We supplied him with:
* brand new light lenses with sparkling reflectors
* LED side light bulbs
* Upgraded cooling system parts (water pump, alloy thermo housing kit, bridge pipe and sensor
* the latest 4th generation top timing chain tensioners.
From Graham on the lights:
Good afternoon Dave
Thought I'd send you some feedback on the lights I purchased from you earlier this year .
I think the picture tells all … also the difference at night is fabulous. Thanks
Work to get your XK8 or R sorted out relating to these problem areas to improve the reliability and your enjoyment of these great cars.
DCR XK8 XKR AutoParts Contact Us
Thanks for Visiting
DCR Jaguar XK8 XKR Parts and Accessories
Leave a Reply
You must be logged in to post a comment.